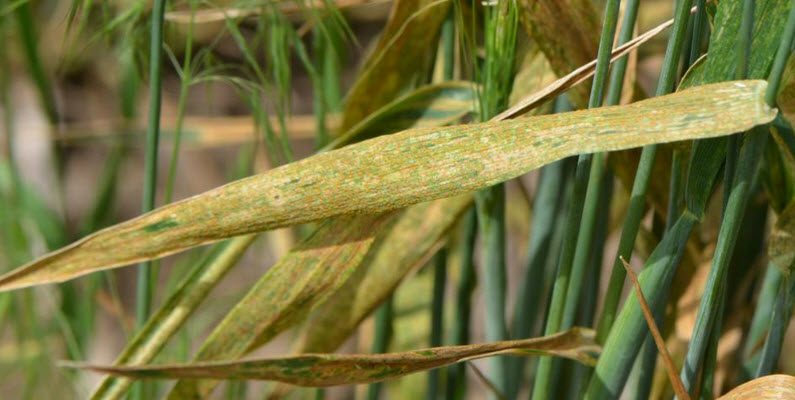 Crop Smart Fungicide Guide
30th August 2018 | Agronomy
SMART EPOXICONAZOLE 125
Active Constituent: 125 g/L Epoxiconazole                 Broadacre Crop type: Barley and Wheat
Rates: Barley: 250mL-500mL/Ha plus 200mL Smart Wet 1000 per 100L spray-mix, Wheat: 500mL/Ha plus 200mL Smart Wet 1000 per 100L spray-mix
SMART EPOXICONAZOLE 125 is a premium cereal fungicide with unique characteristics, enabling it to stand out from other azole fungicides. It provides preventative, curative (kick back) and eradicant activity for the control of stripe rust, leaf rust and septoria nodorum blotch in wheat, leaf rust in barley and performs well on net blotch in barley too. It has a broad-spectrum of fungicide activity, provides outstanding longterm residual control for up to four weeks with seven days post infection on rusts. It keeps leaves greener for longer and stimulates the plants own disease resistance mechanism. Smart Epoxiconazole strengths are for preventing and controlling septoria nodorum blotch and rust diseases in wheat.
SMART CARBENDAZIM 500 SC
Active Constituent: 500 g/L Carbendazim
Broadacre Crop type: Chickpeas, faba beans, lentils and vetch
Rates: 500mL/Ha
SMART CARBENDAZIM 500 controls chocolate spot and grey mould in susceptible legume species. In high disease pressure situations, apply a maximum of two consecutive applications at 14-day intervals for disease prevention. For best results, always apply a minimum of 100L of water per hectare. Smart Carbendazim is used to control grey mould in legumes.
SMART AZ 250
Active Constituent: 250 g/L Azoxystrobin
Broadacre Crop type: *Various (barley and wheat), permits in place for some winter pulses in other combinations
Rates: *Various (160mL-640mL/Ha), strategic partner fungicide
SMART AZ 250 is registered for the control of various diseases in a broad range of crops.  Strobilurin fungicide chemistry is designed to work primarily close to the leaf surface and not inside the plant. It provides a protective shield around the outside of the leaf to prevent disease entering the leaf. A full rate of strobilurin cereal fungicide can provide up to six weeks foliar protection on fungal spore germination. Although not registered alone for wheat and barley, anecdotal evidence suggests Smart Az 250 has excellent preventative control on rusts, net blotch, powdery mildew and yellow leaf spot and is two hours rainfast in good weather conditions. Agronomically, it is recommended to mix another azole fungicide as a combination with strobilurin fungicides to preserve this chemistry and increase the spectrum of control targeting multi pathways of action. Smart Az keeps the leaf greener for longer which promotes a higher level of photosynthesis and in turn can increase yield.
SMART CHLOROTHALONIL 720
Active Constituent: 720 g/L Chlorothalonil
Broadacre Crop type: Faba beans, chickpeas, field peas, lentils, and lupins (*Various APVMA use permits in place for winter legume crops)
Rates: * 1.00L-2.30L/Ha
SMART CHLOROTHALONIL 720 is a systemic fungicide used to control fungal diseases on crops.   There are currently several APVMA minor use permits in place for winter legume crops including faba beans, chickpeas, field peas, lentils and lupins for Ascochyta blight, grey mould, chocolate spot, rust, downey mildew, and anthracnose. Smart Chlorothalonil is used for preventing and controlling Ascochyta blight in susceptible chickpea and lentil varieties. Multiple applications may be required where conducive weather conditions exacerbate the disease pressure and severity of the infection.
SMART PROPICONAZOLE 250
Active Constituent: 250 g/L Propiconazole
Broadacre Crop type: Wheat and barley
Rates: Barley, oats, and wheat: 150mL-500mL/Ha
SMART PROPICONAZOLE 250 is a fungicide registered for use in cereals to control powdery mildew, barley scald, spot form net blotch, net form net blotch, stem rust and crown rust; and suppress septoria leaf blotch in oats, stripe rust, stem rust, septoria nodorum blotch, wheat leaf rust, yellow spot and septoria tritici blotch. A key strength of Smart Propiconazole is it provides a high level of control on stubble borne diseases such as yellow spot in wheat. In barley, its strengths are controlling diseases such as net blotch, scald and powdery mildew.
SMART TEBUCONAZOLE 430
Active Constituent: 430 g/L Tebuconazole
Broadacre Crop type: Cereal crops (including barley, oats and wheat), beans, peas, and ryegrass and fescue seed crops
Rates: 145ml-290mL/Ha, the addition of a mineral crop oil at 1% spray volume may improve the performance on barley, oats and wheat
SMART TEBUCONAZOLE 430 is a systemic fungicide registered for use in cereals to control leaf rust, stripe rust, septoria nodorum blotch, yellow leaf spot, septoria tritici blotch, crown rust, barley scald, powdery mildew and stem rust. Smart Tebuconazole provides post-infection activity and up to three weeks residual control of cereal diseases. One of its major strengths is its performance to control stripe rust and stem rust in wheat. Smart Tebuconazole is one of the most widely used fungicides in low to medium yielding wheat crops, as it is cost-effective and has greater efficacy and longer residual activity on key diseases such as stripe rust when compared with alternatives such as Smart Propiconazole. Do not apply to cereal crops more than once per season (290 mL/Ha rate) or more than twice per season (145 mL/Ha rate) to ensure safe Maximum Residue Limit (MRL) is not exceeded.
Smart Tebuconazole is also registered to control powdery mildew in peas, and the APVMA has issued a minor use permit applicable until 30 June 2024 for the control of Cercospora Leaf Spot (Cercospora zonata) and Faba Bean Rust (Uromyces vicia-fabae) in faba beans and broad beans.
Fungicide resistance management: Crop Smart Agronomy recommend using no more than three Demethylation Inhibitor (DMI) fungicide treatments or formulations, including a DMI treatment, in any one growing season. Crop Smart also advise using no more than two group 11 or group 3+11 fungicides on any one crop.  For more, please contact your local Crop Smart Sales Rep.
* Disclaimer: Some anecdotal information and not formally registered (possible minor use permits from the APMA, please see Pulse Australia permits for current updates as subject to change: http://www.pulseaus.com.au/blog/post/2018-pulse-fungicide-guides
Please always follow label instructions including rates, grazing and harvest WHP, MRL, etc. or if in doubt always contact your agronomist or an industry professional to seek clarification.
Sign Up