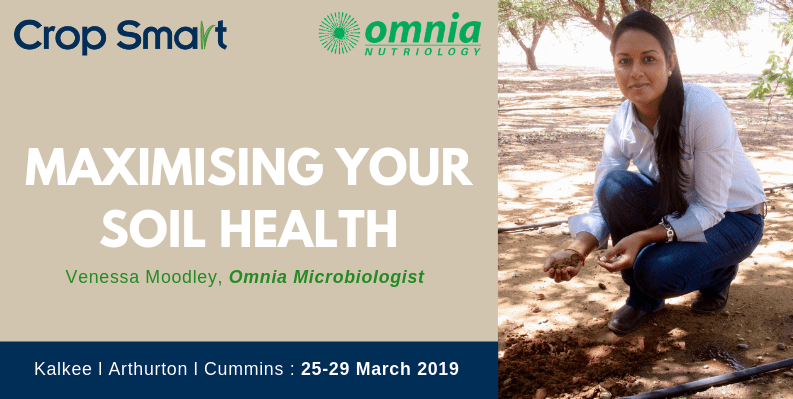 Crop Smart & Omnia Present: Maximising Your Soil Health
15th March 2019 | Agronomy
No-Till farming
changed the way we work, but for years now we have been looking for the next big shift. There is a growing awareness of the importance of our soil in relation to yield, but have you ever thought about how we can further increase our soil's potential?
For decades research has focused on soil's chemical (nutrients) and physical (structure) attributes but only scratched the surface on understanding the way soil microbiome can be used to improve soil quality.
Recent studies identified 40% of soil nitrogen is unavailable to the plant, (that's a lot of wasted urea!). There has been a growing fascination around how microbes can aid nitrogen extraction and subsequently provide higher-yielding crops — unlocking the potential of the soil rhizosphere is possibly the next frontier in broadacre farming.
Pioneering this space is the research team of international humate and fulvate manufacturer, Omnia. Heading up their research team is microbiologist Venessa Moodley. Venessa is renowned for her knowledge on the topic, having spent the last 11 years researching microbial interactions in the rhizosphere.
We are pleased to announce in late March Venessa will be traveling from South Africa to present at a series of events in Kalkee, Arthurton, and Cummins.
To find out more about this exciting field and for the opportunity to learn from a leader in this space, join us at an upcoming event.
Key points covered:
Soil Health – what are we aiming for?
How do we measure soil life and its impact on plant growth?
Maximising on nutrient use efficiency with healthy soils
Bio-stimulants – what's the spin and what's not and how to integrate them into your system.
How can your soil be more resilient against fungal stress and more heat/drought tolerant?
At each event, the team will provide a BBQ, drinks, plus the opportunity to win some great prizes.
All those interested are welcome and if you wish to attend, please click HERE 
We hope to see you there!
Locations:
Kalkee Recreation Reserve: Monday 25th March – From 6:30 pm
Arthurton Sports Club: Thursday 28th March – From 6:30 pm
Cummins Bowling Club: Friday 29th March – From 5:00 pm
Sign Up