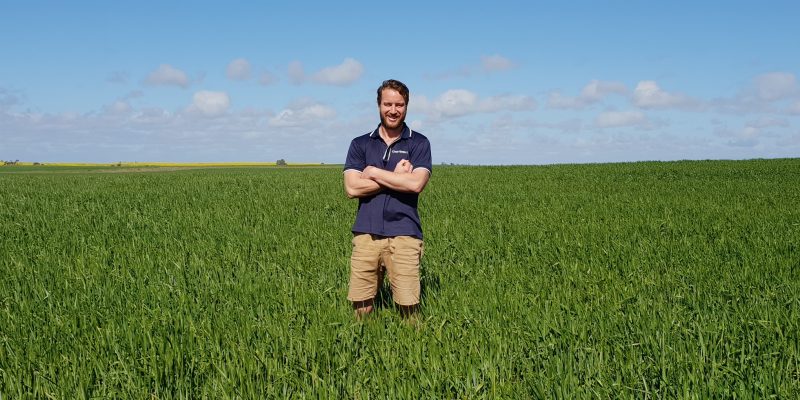 Crop Smart Welcome Senior Agronomist Darren Jones
18th September 2018 | Agronomy
Increasing our agronomic service portfolio
Over the past few years, there has been an increasing demand from our clients to expand our agronomic service portfolio. Therefore, it gives us great pleasure to finally welcome Darren "Jonesy" Jones, our first Victorian Senior Agronomist.  Darren brings a wealth of agronomy knowledge, having worked in the Wimmera and Southern Mallee regions for the past 15 years. In 2003, Darren commenced employment as a Graduate Agronomist with John and Jo Saxton at Saxton Rural (CRT). In 2008 he was promoted to General Manager where he was responsible for agronomy, agricultural procurement and daily operations of the various branches before it was sold to Agritech Rural (CRT) in 2012 where he transferred as an Agronomist.
Since starting with Crop Smart, Darren has 'hit the ground running,' working alongside Brett Heinrich, Darren Mills, Lee English, Daryl Hofmaier and Greg Bellinger to service the needs of local growers. And with his laid back and friendly personality, he has fit into the team seamlessly.
"I'm really enjoying my new role with Crop Smart and establishing the agronomy team in the Wimmera and Southern Mallee," he says.
"I'm passionate about what I do, and enjoy working with my clients to assist them in making the best-informed decisions that will drive sustainability and increase their business profits."
Darren is based at Dimboola in the Wimmera. He is a highly involved member of the local community and is a life member and 2018 captain of the Dimboola Roos Football Club. Darren has a keen interest in travel and in his spare time enjoys being outdoors and spending quality time with family and friends. 
Free Consultation Offer
Darren has a few spots to fill in his agronomy book for next season. For September and October, we are offering a free consultation for Darren to come out and have a chat or drive around your farm. If you'd like another opinion on your farm, we highly encourage you to give Darren a call.
To arrange a catch-up or to introduce yourself, please contact Darren on 0499 891 616. 
What Darren's customers have to say –
 Ryan Milgate (Minyip, Victoria) – "Jonesy has been our agronomist for the past six or so years. He is a great bloke to deal with; honest, upfront and the advice he gives is always in his clients' best interests. His agronomic knowledge is remarkable, and if he doesn't know the answer to a question, he will find out. When you find someone you want to deal with, it makes everything more enjoyable, and that's what I've found with Jonesy. We have a strong personal relationship, and I trust him implicitly. I've enjoyed working with Crop Smart this year, they have great personal service, and they look after me with on-farm delivery. I like that Crop Smart is independent with a family-friendly feel."
Scott Cameron (South Horsham, Victoria) – "I've been working with Jonesy for the past five years, and he is extremely good at what he does. He is an easy-going lad who is friendly, approachable and reliable. Whenever I have a question or an issue, he is responsive and will be on my farm within 24 hours. Jonesy not only advises me on all my cropping but my pastures too. He has incredible knowledge of what is going on in the region, and I regard his opinion highly."
Sign Up