Minimise your tax and earn a reward rate of  5.25%
Are you looking to pre-pay your farm inputs before June 30 to maximise your return this season?
Our 'Smart Prepayments' offer allows you to prepay funds into your Crop Smart account before June 30 and earn the equivalent of 5.25% towards the purchase of Crop Smart products, until you collect your goods.
Smart Prepayments is a simple and rewarding way of prepaying next season's requirements without the hassle of working out exactly what you will need.
For further information please contact your local Crop Smart Sales Rep or download an application for full terms and conditions.
How it works:
Download and fill out the application form
Email completed form to accounts@cropsmart.com.au
Once we receive it, we will issue you with an invoice to pay
As soon as you pay the invoice, the reward rate on your funds will commence
Download your Smart Prepayments Form
View Terms and Conditions Here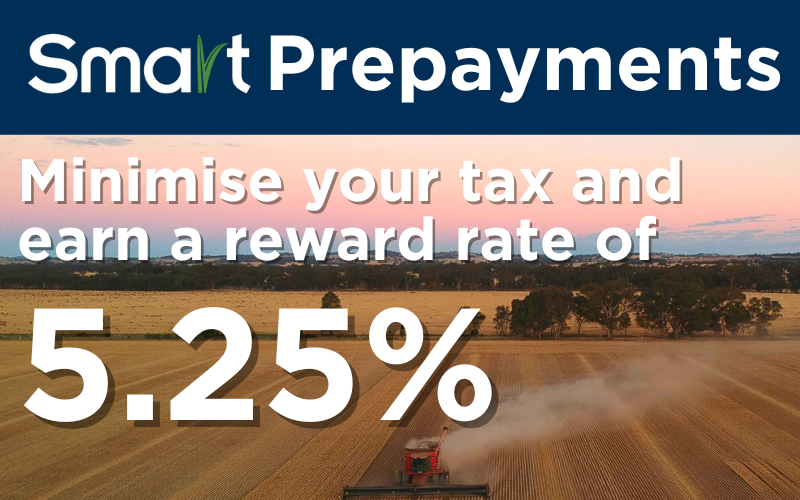 Customers will receive a reward based on the amount of expenditure prepaid to Crop Smart
The prepaid amount cannot be withdrawn. If the amount is not redeemed within 12 months, the reward amount will cease to be applied
5.25% per annum, calculated monthly on the prepaid balance at month end and credited monthly
Any reward amount must be used for the purchase of Crop Smart goods
The reward amount is not interest and cannot be paid out separately to customers
At the discretion of Crop Smart
At the discretion of Crop Smart
Customers cannot withdraw funds