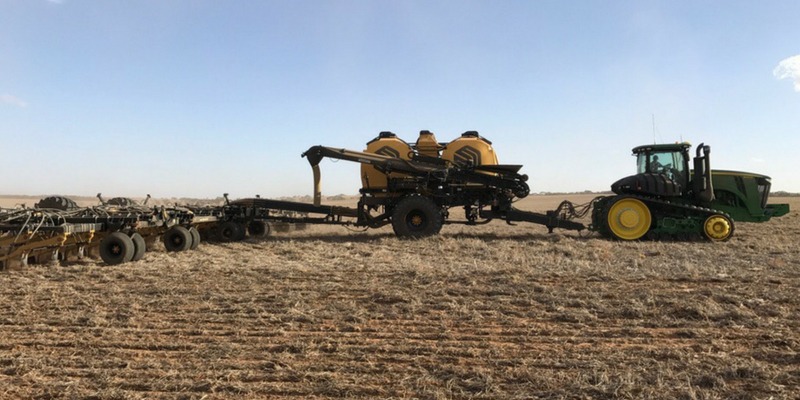 11 CONSIDERATIONS FOR A LATE BREAK OR DRY SEEDING
3rd May 2018 | Agronomy
Since it's looking more like a late autumn break this growing season, the Smart Agro has compiled a list of factors to consider in a dry seeding situation where many of our clients will be challenged with this autumn:
1. Sow pasture paddocks first
Pasture paddocks such as sheep feed (clover, medic, vetch, grazing oats, etc.) should be sowed first (early-mid April) to get them out of the way ahead of any breaking rains for higher valued crops to be sown in a more controlled and successful environment. Make sure longer season, high valued varieties take next priority to optimise their full yield potential.
2. Don't forget weeds
Paddocks with low weed densities should take priority since there's less threat to them having a direct impact on early competition and yield. Dry seeding is more likely to be successful in paddocks with low weed seed banks (especially in cereal crops where bromegrass and/or ryegrass populations exist) or where weeds can be successfully controlled in crop.
3. Maximising the growing season length and soil temperature
A key benefit to dry seeding is that it maximises the length of the growing season. Generally, this is one of the greatest impacts on setting the maximised yield potential of your crop. This also allows the crop to grow in warmer soil conditions, enabling good early vigour and weed competition. Crops sown after a break means seeds are planted into cooler soil temperatures and will generally lack early vigour and weed competition.
4. Increased yield potential
Optimising yield is best achieved by matching your variety phenology to sowing time and environment to ensure flowering occurs at the right time to minimise exposure to frost, heat and moisture stress. Therefore, it's important to know your varieties maturity and optimum flowering window to avoid risk periods during frosting events. For example, it's ok to sow faster maturing barley varieties like Compass, Rosalind, Hindmarsh, Spartacus CL and LaTrobe as they're well-adapted to the low-mid rainfall zones, however there should be caution with these varieties in frost-prone areas and pre-May sowing.
5. Variety choice
Sow different varieties to minimise risk and consider staggering sowing times or a few varieties that have a range of flowering dates and maturities to spread your overall risk profile.
6. Fertiliser toxicity
Care must be taken to separate fertiliser placement from seed as this is exacerbated in a dry seeding situation particularly with canola and on lighter soil types.
Some key points to consider:
Understand your seeding configuration system and separate fertiliser and seed to prevent damage to emerging seedlings. Deep or side banding with tillage below the seeding point is a safer option or paired row and ribbon seeding systems are less likely to cause fertiliser toxicity to seedlings.
Crops vary in their tolerance to fertiliser from greatest to least (canola > lentils > wheat > peas > barley > oats) and fertilisers vary in toxicity (urea, ammonium phosphate base).
Seeding systems with narrow seed spread, wide row spacing, and no seed/fertiliser separation are more susceptible to toxicity.
There is greater potential for damage when high fertiliser rates are used, especially in lighter soil types or cooler, drier seeding conditions.
Seed bed utilisation is a method of quantifying safe fertiliser rates for different seeding systems.
7. Residual herbicide carryover and plant back periods
Check your spray diary from last season to ensure you have no residual herbicide carryover threats. With a dry summer period in most regions check your weather station notes and tally your cumulative rainfall from residual herbicide application dates to ensure you've had enough rain to successfully break down the residues. Common Group B Imidazoline herbicides are often a threat but there are others too. Make sure you understand how residual herbicides are broken down and what influences this, i.e. soil pH, total rainfall and microbial activity over a safe nominated period of time. Always refer to current up to date herbicide labels to determine plant back periods.
8. Understand how pre-emergent herbicides work
With a lack of rainfall and potentially no or limited knockdown opportunities at seeding puts an enormous amount of pressure on pre-emergent herbicides as weed seeds and crop emerge together. Get to know how your pre-emergent herbicide activity works – what's its residual control or half life period? Is it highly soluble (will activate with less rainfall and move in the soil profile)? Or insoluble so requires mechanical incorporation? How much rain and in what time frame post application is needed to activate on a specific soil type? Is it better to split the application or wait and apply it post seeding in front of a reliable rainfall event? Pre-emergent herbicides have various target zones on weeds, however generally they all require a decent rainfall event to work to their greatest potential. If it stays dry during seeding, please be cautioned and prepared to not rely on some of your pre-emergent chemistry to control all your weeds so think ahead how you might control potential out breaks post emergent in crop or at harvest time to avoid weed seed set.
9. Mice baiting
If mouse activity is at targeted thresholds be prepared to bait as soon as possible post seeding (or at seeding on the bar) within a 12-24-hour period to reduce loss. Also avoid baiting within a minimum 3-4-week period to avoid bait aversion.
10. Imidacloprid insecticide seed dressing
Always ensure cereal crops are treated with Imidacloprid to reduce Russian Wheat Aphid (RWA) damage and other aphid sucking pests harbouring virus vectors (e.g. barley yellow dwarf virus).
11. Have some flexibility with your planned rotation
If minimal summer rainfall was achieved or paddocks have low sub soil moisture restraints, be prepared to adjust and/or reduce high valued water use crops like canola as we move into May to potentially reduce your exposure to risk if the season continues to look like a late break.
The Smart Agro
Sign Up