Clethodim for Grass Control in Broadleaf Crops
13th May 2022 | Agronomy
Getting the best results with Smart Clethodim 240EC
Now that seeding is well underway and already wrapping up in some areas, many of us are now looking at grass control options. Clethodim is one of the most popular herbicides on the market and is a favourite amongst our customers when it comes to controlling grass weeds.
We've asked Ag Insights Agronomist, Kent Wooding to share his tips for Clethodim application this season and best practices for use on some common broadleaf crops.
Timing of your Clethodim application is a priority for:
Effective weed control, and
Optimising crop safety
Applying Clethodim to Canola and Lentils
Of all broadleaf crops, Canola is the most sensitive to Clethodim. For best application of Clethodim on Canola:
Do not apply after the flower buds have become visible (also known as the green bud stage – generally around the 8 leaf stage).
The 8 leaf stage is the maximum crop stage for Haloxyfop (to avoid contamination in the grain).
Be aware of the timing restrictions and be organised to spray early.
For lentils, apply clethodim up to the 7th node stage or at the early branching stage.
Getting the best out of Clethodim applications
Avoid spraying after recent frost events
For best results, apply Clethodim targeting small ryegrass plants (2-3 leaf) in warmer, frost-free conditions. Ryegrass control with Clethodim can be significantly reduced if frost exposure occurs prior to spraying. The frost effect is even more pronounced in Ryegrass populations with a low level of clethodim resistance (Gill, Boutsalis & Preston, 2016). A frost event following the application can also reduce herbicide efficacy but the frost impact is more significant if the frost occurred just prior to spraying.
Ammonium Sulphate
Ammonium Sulphate is recommended to treat the spray water prior to adding Clethodim. Bicarbonates in the water can reduce the efficacy of grass herbicides like Clethodim. Always add Ammonium Sulphate to the tank first and ensure it is fully mixed.
The best results will be achieved when Clethodim is applied to small weeds (prior to tillering) that are actively growing. Add Ammonium Sulphate, the recommended oil at the recommended rates, and spray in mild conditions, with no frost for 2-3 days prior to the application. Ensure optimal crop management and agronomy to grow a vigorous crop that will compete with weeds. The use of higher water application rates is also encouraged (minimum of 70L/ha).
More on Tank Mixes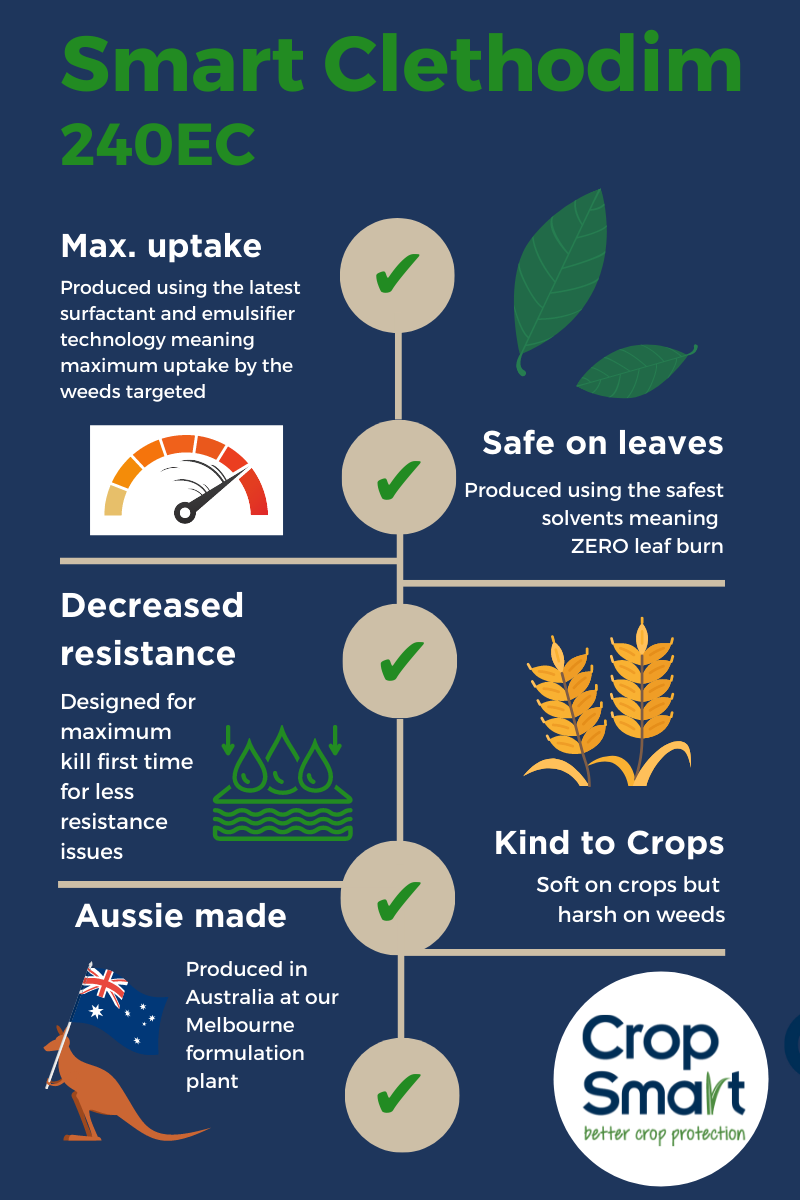 Clethodim performs best when used alone or in a tank mix with a complimentary Group A herbicide such as fops (Haloxyfop, Quizalofop) or Butroxydim (if in doubt here check with your agronomist as Canola can be sensitive to Butroxydim).
Mixtures of Clethodim and Butroxydim can be very effective on some populations of ryegrass but in some regions and situations, the stand-alone Butroxydim or Clethodim at maximum rates can be more effective. You need to know and understand your grass resistance status, which can be ascertained by undertaking a resistance test.
In TT canola it is best to apply Clethodim first and then follow this with an application of Atrazine rather than tank mixing the two herbicides. Research conducted by Peter Boutsalis in 2021 has confirmed this.
Other tank mixes that can be effective depending on the crop type and variety are; Clethodim plus Intervix in Clearfield crops and Clethodim plus glyphosate in Roundup Ready Crops.
Reference List
Boutsalis, P., 2022. Plant Science Consulting tested Clethodim plus Atrazine as a tank-mix vs Clethodim followed by Atrazine spray immediately after on susceptible and Dim-resistant ryegrass.. [online] Twitter Post. Available at: <https://twitter.com/pboutsalis/status/1427566095897030658?lang=en>
Saini, R., Boutsalis, P., Dolman, F., Malone, J., Gill, G. and Preston, C., 2022. Maximise Clethodim Performance: Impact of Frost. [online] S3.ap-southeast-2.amazonaws.com. Available at: <https://s3.ap-southeast-2.amazonaws.com/cdn.weedsmart.org.au/app/uploads/2020/10/2016-clethodim-frost.pdf>
Saini, Rupinder Kaur, et al. "Frost Reduces Clethodim Efficacy in Clethodim-Resistant Rigid Ryegrass Populations."
Weed Science
, vol. 64, no. 2, 2016, pp. 207–15, Available at: <
https://www.jstor.org/stable/26420683
Smart products for Broadleaf Crop Protection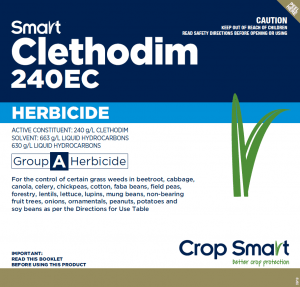 Ingredients: 240 g/L Clethodim
Smart Clethodim has been produced using the latest technology resulting in maximum uptake by the weeds targeted. More information can be found here.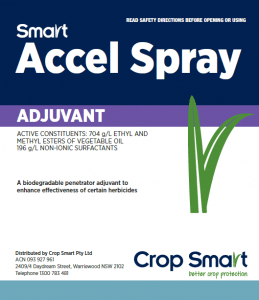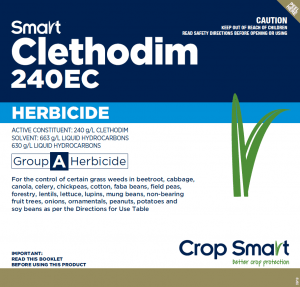 Ingredients: 240 g/L Clethodim
Smart Accel Spray has been formulated using food grade virgin canola oil sourced from Australian growers to improve chemical uptake, rain fastness, drift control and odour reduction. More information can be found here.
Independent trial data of Smart Clethodim & Smart Accel spray oil by Dr Peter Boutsalis showed these products performing equivalent to other well-known brands on the market.
To get advice on Crop Smart products and weed control for your farm contact your local Crop Smart rep here.