What's Happening in The Market – November 2021
1st December 2021 | Markets
Well, the weather forecasters were right; they said it would be a wet end to the season, but they were out by 2 months!  It would be an understatement to say all of us would have taken the rain 8 weeks ago; none of us needs this rain right now as we'd all prefer to get the crops off.  Let's hope the sun can come out, create some heat, and we can all get harvest done with little interruption from here on in.
We've seen significant rainfall events in many parts of the country, which will have implications on chemical prices over the coming months, as we will discuss below.  Last month we spoke about chemical prices going up – the two key questions we'd like to address today is a) how high can they go and b) how long will this last?
How high can they go? The short answer is that prices will keep rising for the foreseeable future.  The price of most technical continues to increase and will be supported by supply constraints until March (at least). At the same time, low stocks in Australia and a wet summer are creating strong local demand.
Glyphosate Tech Prices from 2020 to 2021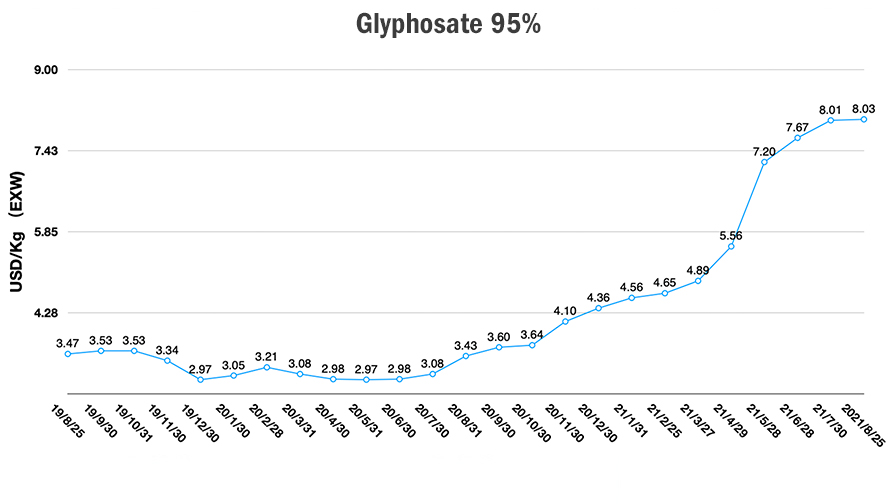 How long is this going to last?  Our best guess is at least until after the Winter Olympics in March when Chinese factories re-open and start production.  Expect local prices to follow China until sowing.  Continued wet weather here will only accentuate local shortages.  Until then, please order ahead and be organised.
Fertiliser
Phosphates
Since our last update local prices have remained flat/stable albeit at the near record highs we have been seeing since October. Globally China is still not exporting and the Russian government announced an embargo on exports also.
There was some hope that the China restrictions would ease allowing product to become more readily available early 2022, it is our view that this won't be the case until at least Q2 2022 which will be too late for our seeding requirements.  With China producing approximately one third of the global phosphate tonnes it has to have an impact on supply and price.
Regarding Russia, whilst Australia would not typically be a destination for Russian phosphates, this season is different, and product will be coming to Australia.  It was feared the Russian government would ban exports like China, however they have allowed exports to remain at normal levels and will only restrict if exports go above historical tonnages – which is good news.
The combination of global inventories being low, strong demand from countries like India and China not exporting doesn't read well for a decrease in price short-term.
We understand every grower has different strategies regarding how they source their fertiliser requirements for next season and it's certainly difficult, however we still recommend having some tonnes committed as a hedge against supply issues.
Nitrogen
Unfortunately, no great news to report here either.  Like Phosphates global inventories are tight and demand remains high.  With China not exporting and big reductions in European production due the gas crisis, again, it doesn't read well for lower prices.
Traditionally we would be looking at Urea now for seeding blends, however at current prices we are recommending leaving the Urea out and plant with straight MAP/DAP to avoid the high Urea price. Whilst we do have time for prices to soften going into Winter, we need to see Europe get back to full production, China restart exports and no production issues…
All the best for harvest, we all hope the sun comes out and stays out so we can all get the crops off and in the bin, to maximise the high grain prices at the moment.  All the best, and please be in touch if we can help you out over the coming months.
Sign Up