What's Happening in The Market – March 2021
30th March 2021 | Markets
Market Update March/April 2021
It's been another mixed month of summer/pre-sowing rains around the country.  If you're in NSW or Queensland, you will likely have a big smile on your face.  Some of our other customers around the Upper EP, YP, and SA Mallee haven't had the same amount of rain and are dryer than usual leading into sowing.  Let's hope we can have some good starting rains to get the season going.
I feel like I keep repeating myself in this market update when we keep referring to the delays in getting product into the country from overseas.  Nothing has improved the last month; we've seen more delays in key products that have led to shortages.  Propyzamide, Simazine, and some Agency products due to be released this season have had issues getting into the country.
Glyphosate – we keep waiting for glyphosate to stop increasing in price, but it hasn't.   Chinese factories have full order books at current pricing through to June, mainly off the back of US demand into Roundup Ready crops. This is an unusual situation for this time of year – one reason being the high Soy Bean prices, which are being driven by huge demand out of China.
Here's the 10-year Soy bean price chart: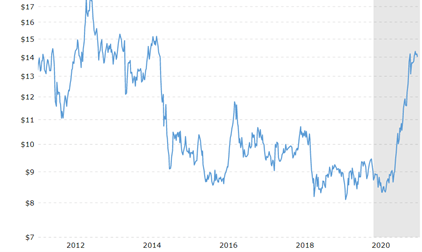 Paraquat – is stable and remains close to its record low price.
Fertiliser – it's been one of those years for fertiliser.  If you still have AP requirements, please keep in touch as there will be more stock available closer to sowing.  It will be expensive, but if you need supply please keep talking to us.  Urea supply looks ok with the price in the low $600's currently, so please let us know if we can help here.
Post Emergent Chemicals.  We're already seeing several products harder to get than normal.  Imazamox and Imazapic have been constantly delayed due to a global shortage of a key intermediate.  Sea freight is now not an option to meet their use window, and we will be airfreighting a limited quantity in.  We can cover orders placed before the product arrives and expect to sell out very quickly.  All of these things keep adding up, reinforcing the same message we've been saying for nearly 12 months "BE MORE ORGANISED THAN USUAL".
Top Ups for Sowing – if you need any top-ups for sowing, please get in touch with the team, and they will get product dropped out to you in quick time — all the best for a safe, and hopefully wet, sowing.
Sign Up