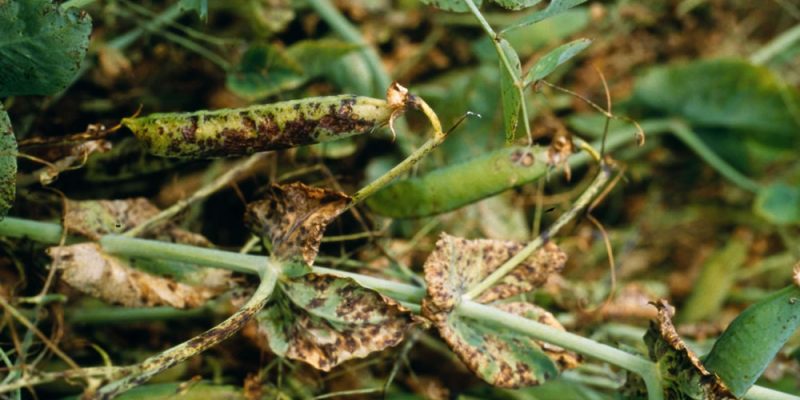 Blackspot in Field Peas
12th July 2018 | Agronomy
Blackspot (Ascochyta Blight) in field peas is caused by a fungal disease complex and is the greatest disease threat to field peas in Southern Australia.
Given the dry autumn, Blackspot is a high risk for field peas this season in many areas and managing the disease in crop becomes more important. As with all diseases, but especially any Ascochyta Blight diseases, proactive management is far more effective than reactive.
Yield losses from Blackspot are commonly in the 10-15% range. However, crop failure can occur when conditions are highly favourable for the disease. Blackspot survives over multiple seasons and can infect crops from pea stubble, soil, and infected seed. During opening rains, every year Ascospores are released from field pea stubble and can spread long distances (kilometres) in the wind to infect newly emerged crops. This spore shower generally lasts 3-4 weeks. Ascospores are also produced within a crop during spring rain (also spread by rain splash) and can rapidly increase disease severity.
Management of Blackspot is best with an integrated approach. Options for Blackspot before this point in the season include seed dressings, selecting paddocks >500m away from pea stubbles (not always practical), having at least a four-year break between field pea crops and delaying sowing to avoid the 'spore shower.' Blackspot can be managed in-crop and at this point with the current industry recommendation of two sprays of mancozeb (2kg/ha), one in the vegetative phase (about nine nodes) and one at early flowering. Yield potential to warrant fungicide application is for >1.5t/ha. Alternative fungicide options with higher efficacy than mancozeb are currently being investigated.
For anyone growing field peas, I recommend subscribing to "Blackspot Manager" to receive text messages about the risk of Blackspot (spore showers) in your area during seeding. Each week you will receive a text message with a risk for the specified area as high, medium or low. You then know the risk of sowing at that time allowing an option to delay sowing until after the spore shower if possible. To subscribe you need to text 'blackspot,' your name and a nearest weather station to 0475 959 932.
The Smart Agro
To subscribe you need to text 'blackspot,' your name and a nearest weather station to 0475 959 932
Sign Up