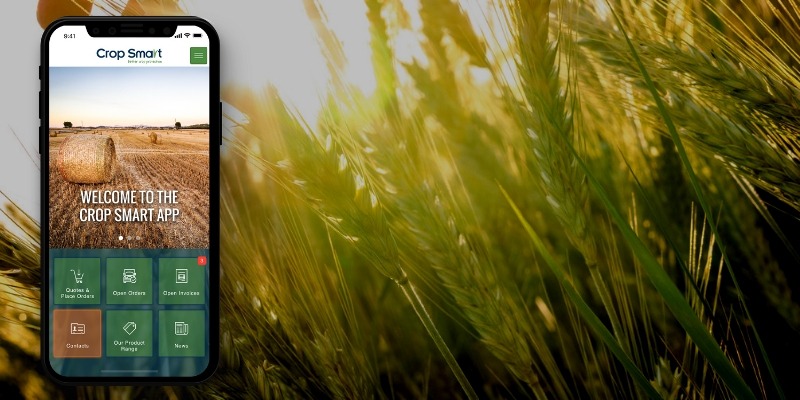 Introducing the New Crop Smart App
19th February 2019 | Products
We're pleased to announce the new Crop Smart app is now available!
The app has received a comprehensive makeover, with a more user-friendly interface and a number of handy new features. We've designed the app to provide you with key information to support on-farm decisions and make transacting with Crop Smart simple.
With the Crop Smart app you can:
View all Crop Smart transaction details in one place
– Keep track of the products you ordered, how much you ordered, the price you paid and see what products you have waiting for collection or delivery.
Access key information to support on-farm decisions
– Search Smart product labels and rates and keep updated with the latest pricing, agronomy and product information.
Receive product deals and order direct
–  Get notified on the best times to buy with instant alerts when a Crop Smart product deal is available and if you'd like to buy purchase directly through the app.
Help us help you! If you have any questions or feedback on how we can improve our app click harriet@cropsmart.com.au.    For support contact Crop Smart: 1300 783 481
 Frequently Asked Questions
How do I access the Crop Smart app?
A. The Crop Smart app is available on both Android and IOS mobile and tablet devices and can be downloaded by visiting Google Play and the App Store and searching Crop Smart. The app is also accessible on our website HERE.
Is the Crop Smart app free?
A:  Yes, the Crop Smart app is free!
How do I log in to the Crop Smart app?
A: If you are an existing Crop Smart customer your 'username' is your mobile number, and your password is a six digit pin.
Forgotten your Crop Smart pin or aren't sure if you have one? You can find it on your Crop Smart account acceptance letter or you can obtain it through your Crop Smart sales rep.
Can I change my pin?
A: Yes – go into settings and select 'change password.' You will be asked to enter your current pin and a new pin. Please note the pin needs to be six digits.
How can I get a Crop Smart account?
A: On the login screen, select 'contact us to register.' Fill in your details and we will get in touch to sign you up and connect you with your local sales rep.
Sign Up