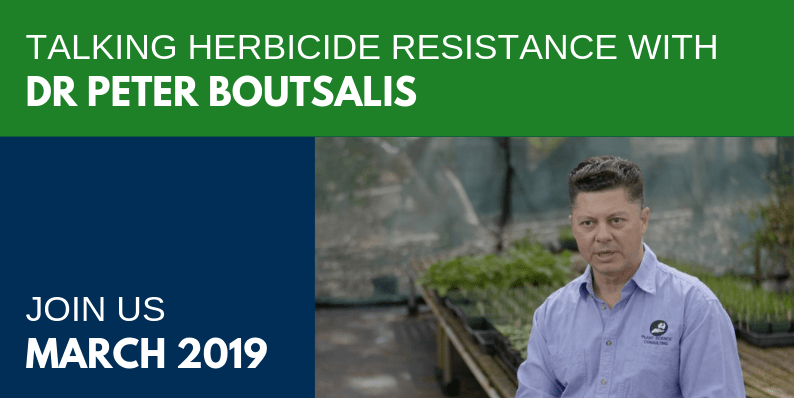 Crop Smart presents: Talking Herbicide Resistance with Dr. Peter Boutsalis
12th February 2019 | Agronomy
Throughout March we will be hosting a series of events with the well-renowned researcher, Dr. Peter Boutsalis.
Peter, aka the herbicide resistance guru, is well respected in the industry, known for extending messages on best practice weed management and effective, yet sustainable, herbicide use for the long term. He has been involved in herbicide resistance for over 25 years in both Australia and overseas and now works as a researcher at Waite Diagnostics Department of Plant Sciences in Adelaide.
To find out for yourself why the top agronomists use Peter as a sounding board on this topic, we invite you to join us at one of our upcoming events.
4 things Peter will have you questioning:
Am I using the right pre-emergent products?
Am I using the right rates of chemical on farm?
What risks do I have with weed resistance that I didn't realise I had?
How do I minimise this risk going forward?
At each event, the Crop Smart team will provide a BBQ, drinks, plus the opportunity to win some great prizes.
All those interested are welcome and if you wish to attend, please click HERE 
We hope to see you there!
Locations:
Lock: Wed 6 March, 6:30pm – 9:30pm – Lock Football & Netball Club
Ceduna: Thurs 7 March, 12:00pm – 3:00pm – Ceduna Football & Netball Club
Wirrulla: Thurs 7 March, 6:30pm – 9:30pm – Wirrulla Community Complex
Pinnaroo: Mon 18 March, 6:30pm – 9:30pm – Pinnaroo Football & Netball Club
Sea Lake: Tues 19 March, 6:30pm – 9:30pm – Sea Lake Community Complex
Yarrawonga: Wed 20 March, 6:30pm – 9:30pm – Yarrawonga Cricket Club
Nhill: Thurs 21 March, 6:30pm – 9:30pm – Nhill Football & Netball Club
Sign Up