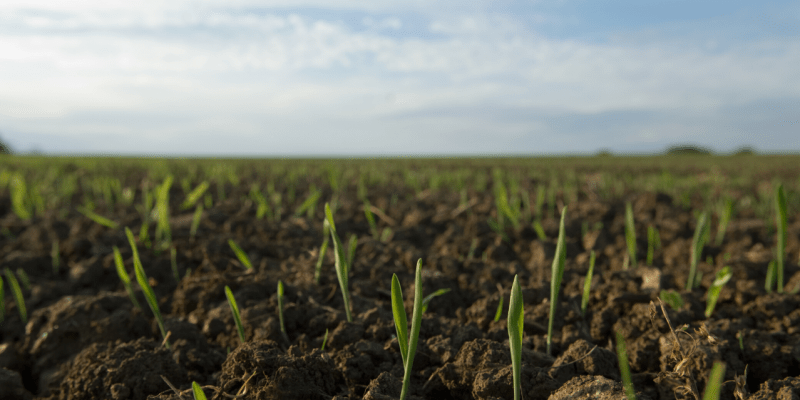 Pre-emergent Herbicides & Sowing
30th March 2020 | Agronomy
Dry conditions and pre-em sowing
Some farmers will be starting off dry for sowing, whereas a lot of regions will have had substantial rain events. Whatever the case, it is important that the correct pre-emergent herbicides are used for the right conditions. It's important to understand that pre-emergent herbicide solubility and volatilisation play huge roles in utilising full rates of the herbicide, and knowing the different decay rates of pre-emergent herbicides can have a significant effect on grass control.
When using pre-emergent herbicides with low solubility, such as Trifluralin, especially in high stubble load paddocks, you run the risk of high herbicide interception from that stubble. When low solubility herbicides bind to previous years stubble, it is strongly binded to that stubble and is largely lost for use, even if rainfall events occur to attempt to wash the chemical from the stubble.
However, pre-emergent herbicides with high solubility, such as Pyroxasulfone, even when intercepted by the stubble wash off with follow-up rainfall events far easier.
Whether sowing under dry or wet conditions, it's essential to understand that all pre-emergent herbicides have different volatilisation and decay rates, which affect which herbicide to choose for the correct situation.
In completely dry soil, and when incorporated under the correct timing requirements, many pre-emergent herbicides persist for a relatively long time and have a reasonably low decay rate.  It's not until moisture is present to activate the herbicides, that they begin to decay more rapidly and under different rates comparing different herbicides.
The graph below shows the different decay rates (on the 15th April) of Triflurain @ 2L/Ha, Sakura @ 118g/Ha and Boxergold @ 2.5L/Ha under dry and wet conditions in a light soil type: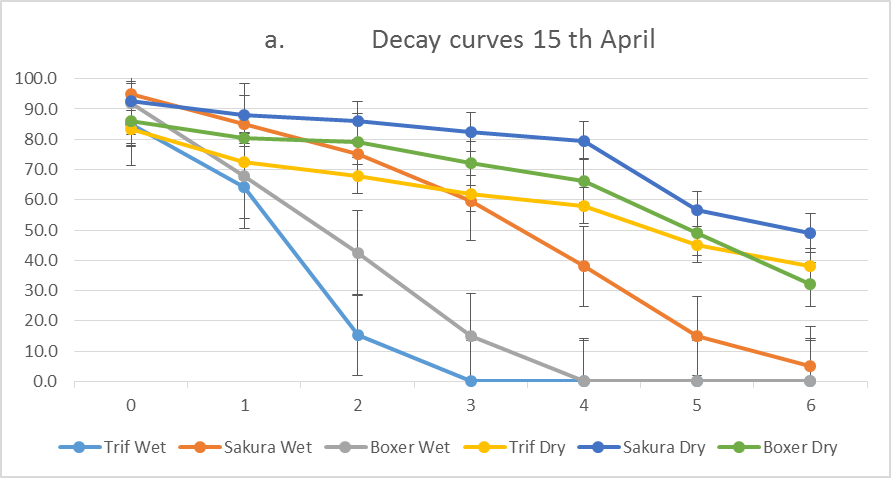 The graph shows that under dry conditions, all three herbicides persist in the soil quite well for the first 2 weeks, after which Trifluralin begins to decay more rapidly than Boxergold and even more so than Sakura.
Under Wet conditions however, Trifluralin and Boxergold have a far quicker decay rate than that of Sakura, which has a much longer residual in the soil under wet conditions compared to the other two herbicides.
Some factors to consider from this data;
If you are going to begin dry seeding early, and a rainfall event occurs before ryegrass dormancy breaks, you may want to use a longer residual herbicide such as Sakura as opposed to Trifluralin or Boxergold where there's a risk that the residual may run out before the major flush of ryegrass occurs in mid-May.
If you are going to dry sow and will be using Trifluralin or Boxergold, late April to early May would better suit this herbicide so that there is adequate residual for ryegrass control when it germinates.
References:
David Minkey, W., 2020. Decay Of Pre-Emergent Herbicides In Dry Soils. [online] Grains Research and Development Corporation. Available at: <https://grdc.com.au/resources-and-publications/grdc-update-papers/tab-content/grdc-update-papers/2017/02/decay-of-pre-emergent-herbicides-in-dry-soils>
Ahri.uwa.edu.au. 2020. Australian Herbicide Resistance Initiative (AHRI). [online] Available at: <https://ahri.uwa.edu.au/herbicides-and-stubble-some-wash-off-some-dont/>
The Smart Agro
Sign Up