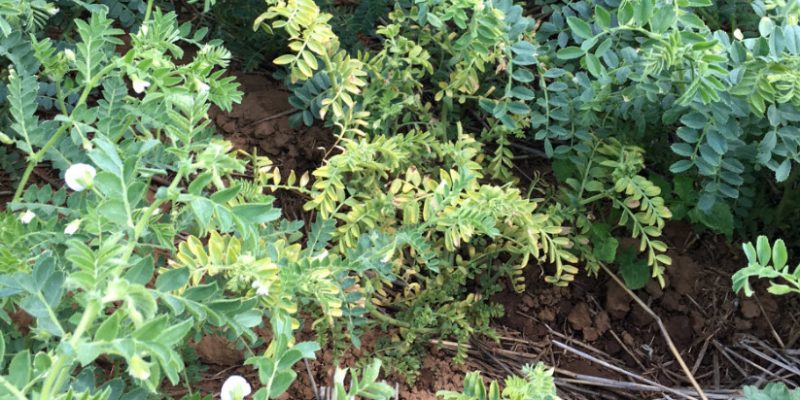 Virus in Pulse Crops
10th September 2016 | Agronomy
This season many pulse crops have shown varying levels of virus infection, including lentils, field peas and chickpeas.  There are many different types of viruses that affect pulse crops and a plant test is the only way to tell which strain it is.  Plants that get a virus will have significantly reduced yield and may even die. Although the virus cannot be treated with anything to undo its effects, we can help reduce further infection onto un-infected plants by reducing the vector pressure.
Virus in pulse plants is spread by aphids carrying the virus and probing un-infected plants. Aphids are the only way a virus can spread in pulses and so seasonal conditions and management that influences aphid populations will have an effect on the level of virus in any given season.  Infected host plants can include volunteer pulses or plants from seed retained with virus infection. Depending on which virus an aphid gets from probing an infected plant will determine whether the aphid will retain the virus for the rest of its life or if it loses the virus after several probes. Plant symptoms will become more obvious as the season progresses and can include yellowing, stunting, cupped leaves and even twisting of new growth.
This season has been great for aphids in certain areas with lots of rain over summer and autumn allowing their numbers to build and then survive into the cropping season through the green bridge in paddocks or non-arable areas.  Summer/autumn rain also leads to a build up of virus infected plants increasing the chance of aphids getting a virus.  Aphid numbers were high early on in some areas creating the right environment for the spread of viruses.  Aphid populations are easily assessed in crop with a sweep net, except for chickpeas which aphids do not colonise and can consequently go undetected, instead they continually move through the crop which can increase the spread of virus.
There are many management options to help reduce virus infection before this point in the season.  These include stopping the green bridge, sowing into stubble, preferably standing (some aphids like to land on bare ground) reducing stress in plants, seed treatments and controlling aphids with insecticides in crop. All we can do now if you have virus present in your crops is to manage the aphid population to reduce further spread. The two main pulse aphids are Blue Green and Cow Pea, with Cow Pea Aphids the harder to control.  Of the options available Omethoate @ 200mL/ha is the best and most reliable. Insecticide options that are friendly on beneficial insects are not as useful late in the season in pulses as the crop is normally getting a grub spray which will kill most of the beneficial insects.
The best way to know if you have virus infected plants or aphids present is to get out and have a look and put the sweep net over the crop.  If you are travelling over the crop with a fungicide or grub spray make sure you have a look as you may be able to reduce the aphid population while spraying the crop.  If you do find concerning levels of virus infected plants be sure to get your seed tested before next year's planting as a number of common viruses are seed borne.
The Smart Agro