Crop Nitrogen Requirements
27th May 2020 | Agronomy
Due to the late summer and early autumn rainfall, we are seeing higher than usual amounts of nitrogen in 0-60cm tests. In some instances, there is enough soil nitrogen to get the crop through to an average yield. This presents an opportunity for growers to hold back the first nitrogen application that is made around the 2-3 leaf stage and be more strategic with the applications around the late tillering to early stem elongation.
Managing in-crop nitrogen in any season is closer to an art form rather than a science.
So how do we manage nitrogen to the best of our ability with the tools we currently have?
Measure soil nitrogen with deep N tests. These tests have been around for years, and everyone knows about them. But we all know that if you want to manage something first, you need to measure
Keep an eye on weather forecasts, especially services like the fast break. Long term trends are more valuable rather than specifics about individual rain events.
Make sure all other nutrients are in available at sufficient levels, and soil chemical issues such as pH or sodicity are not limiting crop potential
The average starting soil N from clients around Yarrawonga in the North East of Victoria is 132kg/ha. In many seasons I would expect to see starting soil nitrogen levels between 40-80 kg/ha available N. Considering the potential yield in the North East (if we receive average rainfall for the rest of the growing season) is 5.4 tonnes of cereal per hectare, we currently have enough nitrogen in the average paddock to get a crop through to the booting stage.
Table 1 – nitrogen by yield and protein levels
Crop Yield – tonnes / hectare
Protein
3
4
5
6
7
8
Wheat
10.50%
121
162
202
243
283
323
11.50%
133
177
221
266
310
354
Barley
10.50%
99
132
165
198
232
265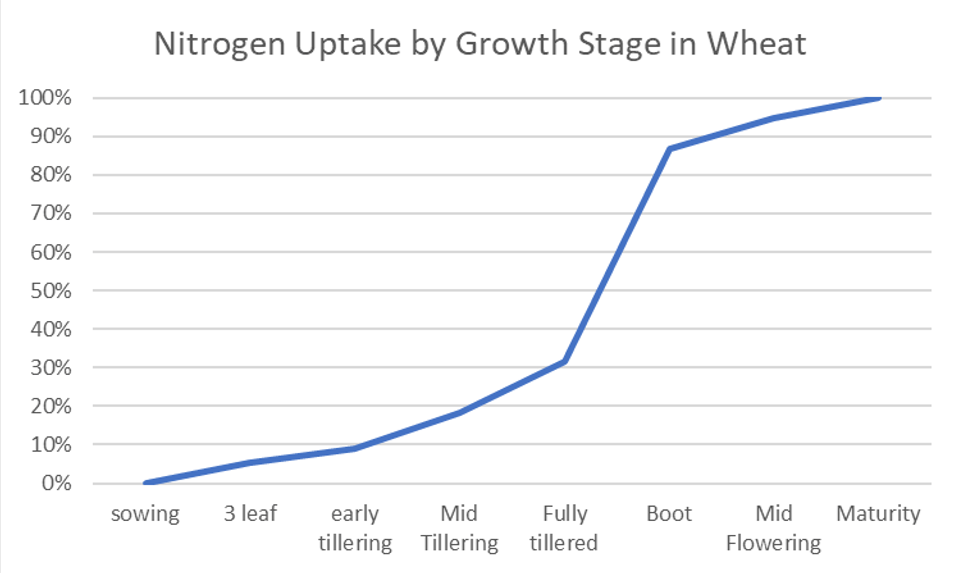 So how do we bring this all together to make a decision?
First of all, we need to have an outlook on the year and potential yields
Decile 1 rainfall: 3t/Ha – we already have enough nitrogen to finish the crop
Decile 5 rainfall: 5.4t/Ha – with potential mineralization of nitrogen to come in spring, we only need another 10 – 30kg of nitrogen to finish the crop. There is already enough nitrogen to get through to the boot stage, so we should be looking at 1 application of nitrogen around the mid-fully tillered stage
Decile 9 rainfall: 9.5t/Ha – we will need around another 100kg of N if we rely on the expected mineralized nitrogen. The current nitrogen in the crop should get through to the fully tillered stage where we can start making applications.
From all of these scenarios, we can see that where farmers have had summer rainfall that has mineralized considerable amounts of nitrogen, there is time to make strategic decisions on in-crop nitrogen applications.  To be able to make intelligent nitrogen decisions we first need some baseline data from soil tests, if you require soil tests, please contact your local Crop Smart agronomist.
Take-Home Messages
Lots of South Eastern Australia had good summer and early autumn rain leading to an increase in soil available nitrogen from mineralization

Measuring soil N levels is the best way to manage N requirements in any season

We have a good opportunity to be very strategic with in-crop N decisions where farmers have good test data to back the process up