Getting The Most Out Of Clethodim
27th May 2020 | Agronomy
As we are looking to get our first in crops sprays started over the next few days, it is probably time to  review the main principles of getting the best out of our main grass control active – Clethodim
Water Rates – minimum 70L of water in a medium to coarse droplet.
Mixing Partners – the less the better, there is usually antagonism between tank mixing partners in any brew we put out resulting in sub standard results. If the population of grass is potentially an issue to control or environmental conditions are not favorable, it may be best to leave other herbicides and liquid nutrients out of the tank.
Adjuvants – always use a high-quality oil like Smart Accel or Smart Up and where water quality (bicarbonates) are an issue, precondition the water with ammonium sulphate.
Butroxydim – in situations where ryegrass is starting to develop some resistance to Clethodim, tank mixing with Butroxydim can help to improve control. This is especially effective in legumes where higher rates of Butroxydim can be used.
Environmental Conditions – group A herbicides need to translocate to the crown of the plant to work, any factors reducing translocation such as drought, water logging and frost can reduce translocation and efficacy.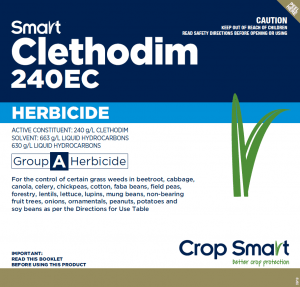 Ingredients: 240 g/L Clethodim
Smart Clethodim has been produced using the latest surfactant and emulsifier technology resulting in maximum uptake by the weeds targeted.
More information can be found Here
For any more information regarding Crop Smart products and weed control please contact your local Crop Smart Sales Rep.
Sign Up