What's Happening in The Market – September 2021
29th September 2021 | Markets
September Market Update
A promising run a month ago has changed with a lack of rain across some of our Southern regions.  We are looking to the skies and the radar, but the forecasted wet spring just hasn't eventuated.  It's disappointing to see potential there in the paddock and the crops not make it because of rain, so let's hope something can appear quickly for our Southern growers.  Fortunately grain prices are high and look to stay high for the moment.
On the supply front, it is getting harder with the world's supply chains.  I'm sure you're seeing this across all of your suppliers at the moment, but the simple fact is it's getting more and more difficult to get product into the country because of shipping.  This is pushing costs higher, and therefore pushing prices up for everything.  Up until recently supply has still been ok from most countries, just taking longer, but we're starting to see that changing in China now.  This is due to two key factors:
The Yellow Phosphorus Price – this is a key ingredient in any organophosphate chemistry and Phosphorus based fertiliser – chlorpyriphos, glyphosate, MAP, DAP, Phosphoric Acid etc. See the price rise in the chart below which is reflecting the current sharp glyphosate price rise. It is expected that the yellow phosphorus price will continue to increase in the short term;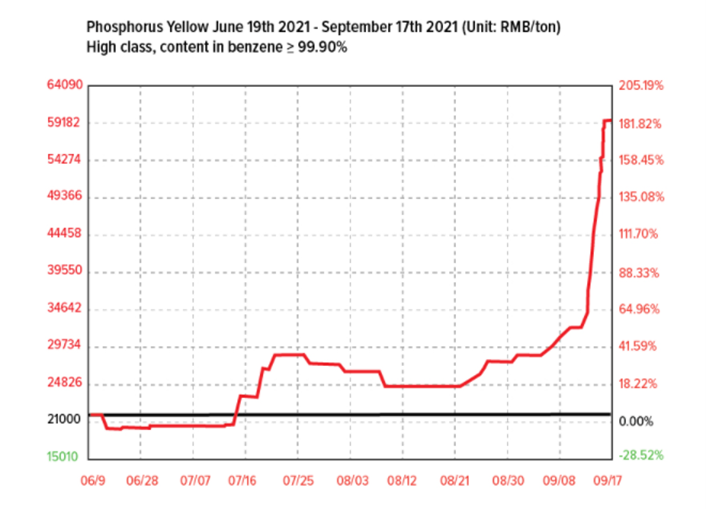 Electricity Supply Problems – Electricity rationing has been implemented by the government. Droughts have reduced the amount of hydro electric power available and at the same time, COVID has disrupted domestic coal production, and trade sanctions on Australian coal have cut imports.  Widespread factory shutdowns are forecast to persist at least until December.
When you combine these two factors with the worldwide shipping issues and the Winter Olympics in Beijing next February, you can see the potential "bottle neck" forming.
So what does this mean for input supply?
Chemical – Price rises across the board have started and will continue.
More importantly, supply of some key actives is now threatened as the window for supplying them has become increasingly narrow.  As we've been saying for months; it means growers will need to order early to secure stock.   Please keep in regular contact with your Crop Smart sales rep to help them organize you for summer spraying and sowing next year.
Nitrogen
In regards to Urea, Australia imports minimal amounts from China so our exposure here is limited.  However, we have seen massive increases in Urea prices globally in the last fortnight linked to the energy situation in Europe with significant Ammonia producers either reducing capacity or shutting down completely, plus the lingering effects of the Hurricane in the USA still impacting supply and logistics etc.  The only positive is for most winter croppers there is time for the price to correct downwards before our winter – will that be the case?  Nobody truly knows – remember the saying 'the cure for high prices is high prices'…
Phosphates
Australia is much more dependent on China for Phosphates, with over 50% of our product coming from China.  With very low carryover in the country and limited tonnes available from China, we don't see prices easing in the medium term. Australia does have alternative supply from the Arab Gulf and North Africa, albeit we are still facing the same incredibly high prices with the added cost of more expensive freight.
Phosphates over $1100 aren't attractive, we know, but neither is sowing without any product.  We think growers should be taking a position on a percentage of your product for next season to minimize possible supply issues and ensure you have product ready when you need it.
Given the uncertainty and volatility, fertiliser companies are slow at releasing parcels until they have price and shipping confirmed, adding to the complexity (and nervousness).  Once we get tonnes confirmed, we will continue to be in touch with the aim of keeping you informed to make the best decision for your business.
In summary the more organized you are in 2021, the more relaxed you'll be in 2022.  We will be in touch over the next month to help get you organized but if you need help earlier please feel free to give one of the team a call.
Sign Up