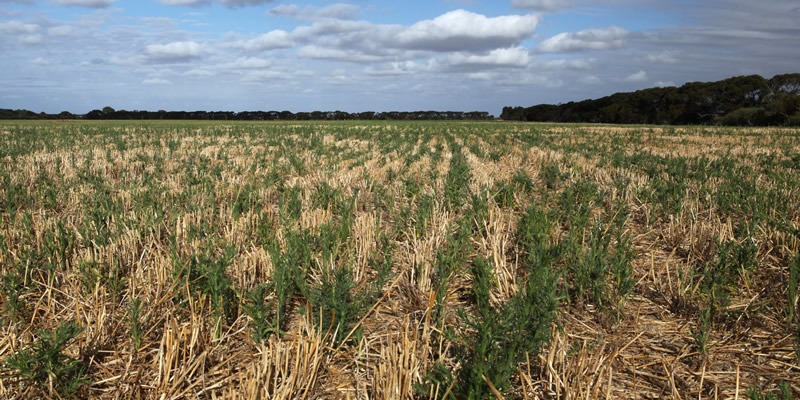 A Guide to Summer Spraying
24th February 2020 | Agronomy
The main chemicals used during summer spraying:
Tips for optimum results
Spray early:
Early summer spraying will achieve best results for weed control and optimise crop potential for the upcoming season. Reasons for this are:
Early targeted weeds are often easier to control, eliminating the need for higher chemical rates and expensive mixes
Improved water and nutrient conservation
Decreased disease pressure due to early break of green bridge
Water quality:
Ammonium sulphate should be considered if you're not using rain water for summer spraying as it will reduce chemical tie up caused by higher levels of positively charged particles found in hard water. These hard water particles bind to some acidic chemicals, such as glyphosate, reducing the plant's ability to absorb the chemical. Generally, water hardness above 250 to 350ppm should be treated with Ammonium sulphate.
Spray quality:
For most translocated products used for summer spraying, coarse spray qualities provide better weed control than medium spray qualities due to reduced spray drift (provided an appropriate nozzle and pressure is used). Water rates above 50L/ha should always be used for summer spraying, especially in paddocks with higher stubble loads and when using poorly translocated products. Higher water rates should also be used for coarser spray qualities.
Plant back periods:
Always be sure to check your chemical's plant back periods for different crop types used in the upcoming season, especially when sprayed in late summer/early autumn. Pulse crops especially can be very sensitive to a number of chemicals such as Group B herbicides. Be sure to check required rainfall amounts as well as required time periods are met prior to sowing.
Adjuvants:
Adjuvants are products that are added to a spray solution to modify the action or physical properties of a chemical, and as a result improves the chemicals effectiveness.
The main adjuvants we recommend during summer spraying are: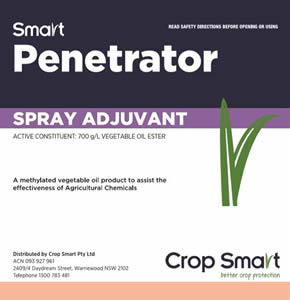 Ingredients: 700g/L Vegetable Oil Ester
Product Description & Use: Smart Penetrator contains methylated vegetable oil and a blend of non-ionic surfactants. The high level of non-ionic surfactants assists in the wetting and spreading of pesticides, fungicides and herbicides on the target surface. Smart Penetrator prolongs the time taken for the spray droplet to dry which means longer time for penetration into the plant tissue.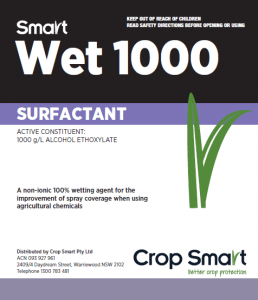 Ingredients: 1000 g/L Alcohol Ethoxylate
Product Description & Use: Smart Wet 1000 assists in decreasing the surface tension of droplets allowing for greater spreading of the droplet over the target surface.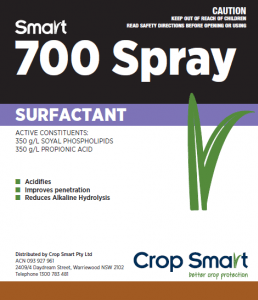 Ingredients: 350 g/L Soyal Phospholipids & 350 g/L Propionic Acid Product
Description & Use: Smart 700 is a non-ionic penetrating surfactant that assists in reducing spray drift and reducing spray solution pH, as well as assisting in cuticular disruption in waxy leaves to enhance herbicide uptake.
Sign Up