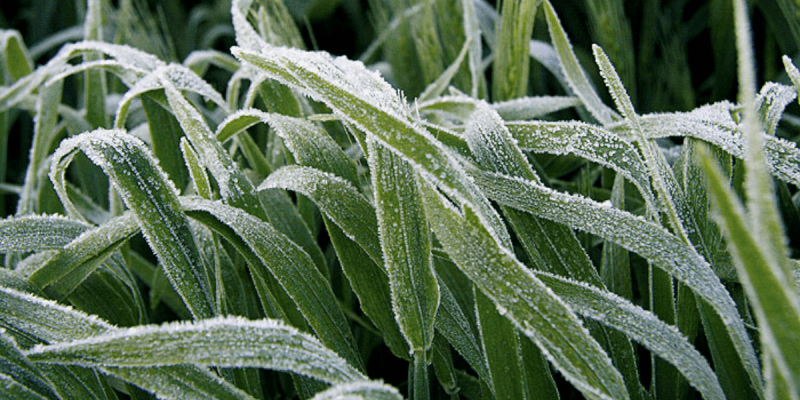 Should I spray after a frost?
15th June 2020 | Agronomy
With some cold evenings recently and some more chilly weather on the way, we need to decide on whether it's an appropriate time to be spraying or not.
Frost damage can significantly reduce crop yield and grain quality, but spraying around frosts can also create damage within the crops.  The impact of frost on emerging crops depends on several things; duration of the frost, the temperature of frost (damage usually occurs when the temperature drops below 5 degrees down to -2), and the weather following the frost.
Ideally, plants need to be actively growing to uptake the chemical sprayed on them, so if a crop has been partially damaged by frost than herbicide efficacy will be significantly reduced.
The old rule used to be:
After one frost – don't spray for 24 hours
After two frosts in a row – don't spray for 48 hours
Research by Chris Preston, University of South Australia, has shown that the weather AFTER spraying has more effect on efficacy than BEFORE spraying. His results (below) showed that that cold weather before his application had little effect, but cold weather after spraying had a more significant impact. The amount of clethodim required to reduce biomass by 50% doubled with frost treatment after the first application.
Taking this into account, a better rule would be:
Don't spray if frost is forecast for the following day
If frost or extreme cold weather occurs after application expect a variable result or a prolonged result.
There are many different types of frosts – some plants are still frosted at lunchtime whilst others are gone by 9 am – but ensure the plants are actively growing to get the best spray result.
Please take this into consideration when spraying over the next few weeks, especially if you are grass-freeing.  For more information on frost identification visit the links below and give your local Crop Smart agronomist a call.
GRDC – Frost Identification for canola and pulses
Sign Up